Cruise New Zealand Luxury Charters
Step aboard one of our luxury charter vessels and experience an unforgettable cruise. Enjoy a range of land and water-based activities accompanied by a sumptuous meal and beverages. Perfect for that special occasion, birthday, wedding, Christmas function, corporate and client entertainment.
View Fleet
Exceptional Luxury Charter Vessels
There are three luxury catamarans in the Cruise New Zealand charter fleet, the perfect way to enjoy cruising, on-water activities, fishing, and exploring the Hauraki Gulf and New Zealand's coastal paradise.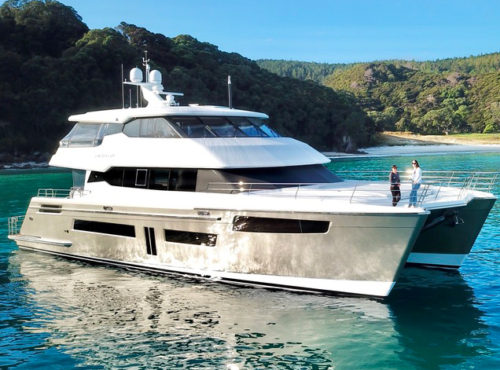 60 guests for day cruises
8 guests overnight
Hourly rate from: $2895.00
Minimum charge of 5 hours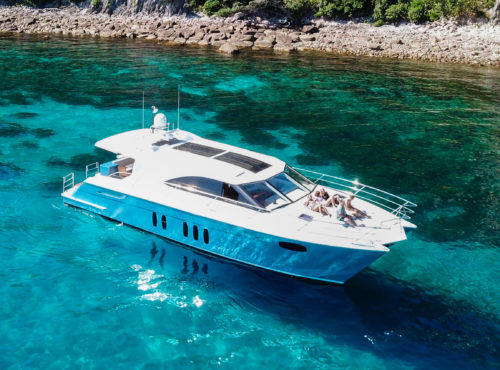 30 guests for day cruises
6 guests overnight
Hourly rate from: $985.00
Minimum charge of 4 hours
35 guests for day cruises
4 guests for overnight
Hourly rate from: $935.00
Minimum charge: 4 hours
Charter Testimonials
"
I just wanted to thank you for a spectacular charter. All of our staff had an amazing time and from our initial enquiry through to the moment we left the boat everything was perfect. Nothing seemed too much trouble and you made sure everyone had a great experience.
"
"
I would like to thank the team at Cruise New Zealand for the wonderful afternoon they put on for our staff end of year party. From the minute we arrived we were extremely well hosted and entertained from watersports to great food and beverage. This is our third trip and we will be back again.
"
"
I have been chartering boats for client and staff events for many years and can honestly say that I can't recall better service, a superb evening and vessel. The attitude of both the captain and crew was excellent, professional, yet friendly, very considerate and incredibly attentive making it a fantastic experience.
"
"
Just a quick note to say thank you.  Our cruise last Friday was amazing.  The boat, the crew, and the food were just fantastic, and I have had nothing but very positive feedback from our staff.  It was certainly one of the most successful and enjoyed Xmas functions I have ever organised.
"
"
A momentous thank you to you and your wonderful team for providing a day yesterday that exceeded all expectations! The client we hosted was so happy. It was the best day ever – such a beautiful boat. Thank you so much to you all.
"
"
We want to thank you for what was an unforgettable experience on the night of my 60th birthday. The crew was outstanding, and made our entire party feel very welcome. I had no idea that it would be such a luxurious and beautifully crafted motor yacht. A great experience, thank you for the opportunity.
"
"
Thank you so much for all your help with our event. The evening was everything we expected and more! The crew were fantastic, couldn't ask for better hosts. It was a fabulous venue for showing our latest range and our guests were impressed with the immaculate presentation of the boat and outstanding service.
"
Inquire Now
If you would like to know more about any aspect of Cruise New Zealand's Auckland charter boat service or want to make a booking please use this form. Alternatively, you are welcome to make contact by telephone.
Note: If you would like to speak with us directly call on:
Mobile: 021 039 7031